Swansea cat breaks leg after boys kick it into air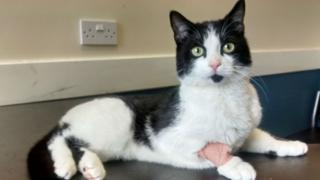 A cat was kicked so hard by two boys it flew into the air and broke its leg, RSPCA Cymru has said.
The boys, aged nine or 10, were seen kicking the pet in Penllergaer, Swansea, on 12 April at about 12:00 BST.
The black and white cat was found screaming in pain by a driver who saw the incident near the green.
It was taken to a vet and will need an operation on its leg but was not micro-chipped so the owners are untraceable.
Neither boy has been caught but one of them had brown hair and was wearing a red hoodie.
Anyone with information is asked to call the RSPCA 0300 123 8018.