Heritage centre call for threatened Carmarthen Guildhall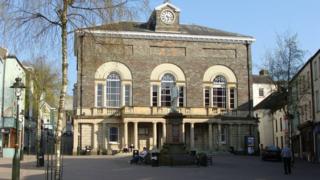 A call has been made for the public to consider establishing a trust to run an iconic Carmarthenshire building.
The future of Carmarthen Guildhall has been uncertain since it was announced the law courts would close in May.
The 19th Century Rebecca Rioters, and murderer Ronald Harries - one of the last people to be hanged at Swansea Prison - were tried at the courts.
An HM Courts & Tribunals Service spokesman said they recognised the "importance of the Guildhall."
Carmarthen Law Courts is one of 10 courts across Wales being closed by the Ministry of Justice under UK government plans to save money and reduce surplus capacity.
Magistrate and crown court cases will be sent elsewhere instead of being heard in the town.
A meeting organised by the Carmarthen Civic Society on Wednesday night heard calls for a heritage centre to be established at the Guildhall.
The High Sheriff of Dyfed, Prof Medwin Hughes, backed the Guildhall to become a "centre to tell our story".
As well as famous court cases, the Guildhall also saw Gwynfor Evans's famous Carmarthen by-election victory in 1966, when he became Plaid Cymru's first MP.