Port Talbot churches and chapels unite behind steelworkers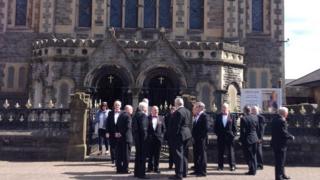 A service has taken place in Port Talbot, with churches and chapels showing their support for steelworkers.
The future of steel in the town has been unclear since Tata Steel said it would sell its loss-making UK business.
Fighting for Steel took place at the town's Ebenezer Baptist Church on Sunday.
A team of 16 leaders from local churches and chapels joined about 50 other people for the service to show their support for steelworkers.
The group, which has set up a ministry team to offer advice and support to workers who face redundancy, is led by Tata Steel chaplain Rick Hayes.
He said: "I'm firmly of the belief that there will be something coming out of this awkward time and I believe there will be a steel industry still in south Wales."
He described the service as an ideal opportunity to "show commitment and solidarity with the workforce".
'Devastation'
Retired steelworker Laurance Howe, 65, from Porthcawl said there was "a little glimmer of hope" among the workforce.
"Especially with the government indicating that they'd be prepared to put in something like 25%," he said.
He added: "People talk about a close-knit community in Port Talbot but it extends more than that.
"It extends down to Swansea at the Liberty Stadium and it goes to Newport and it goes up to the valleys."
Brian Payne, of Maesteg, a former welder and fabricator, worked as a contractor at the Port Talbot plant for 15 years before he retired in 2005.
He said closure would mean "devastation" for the area.
At the service, a call to prayer was made by Revd Bob Paul, the former chaplain to Llanwern, Panteg and Orb steelworks, who called the prospect of Port Talbot closing "deeply worrying".
More than 1,000 jobs are to go at steel plants, mostly in south Wales.
Tata said in January that 750 jobs would go in Port Talbot, while 200 support staff elsewhere would be axed.