RSPCA appeal after horse stuck in mud at Kidwelly Quay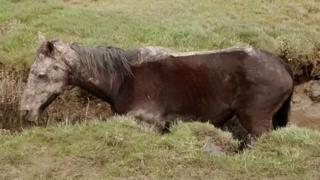 The RSPCA is trying to track down the owner of a horse it rescued after it became trapped in mud in Carmarthenshire.
The thoroughbred mare had to be hauled out by firefighters and an equine vet after getting into trouble at Kidwelly Quay on Monday.
Inspector Nic de Celis said: "She was so exhausted she couldn't stand and just sunk back in the mud."
He said the mare had been stranded by the tide and had fallen into a gully.
"We used all the equipment and manpower we had to free her.
'Touch and go'
"We used a groundsheet as a sledge and it took around a dozen people to slide her out of the gully.
"There were some touch-and-go moments, as she collapsed and we were fearful she might not make it."
The mare was treated at the scene and has been taking to a boarding stable where she is being monitored.
Anyone with information about the horse should contact the RSPCA inspectorate appeal line on 0300 123 8018.