Pembrokeshire's Cleddau Bridge tolls to stay the same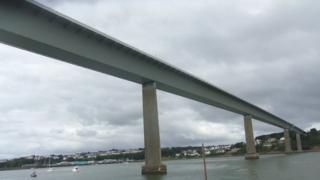 The price of crossing a Pembrokeshire bridge is set to stay the same following a review.
The Cleddau Bridge costs 75p per car to cross between Pembroke Dock and Neyland.
Pembrokeshire council considered whether to keep the tolls as they are, abolish them, raise them or reduce them - but voted to maintain the current costs.
Councillors also said it had accumulated a surplus of £11.2m.
The way the council manages the tolls has previously been brought under review after a complaint to the Wales Audit Office.