'Oyez, Oyez' - UK town criers parade in Newport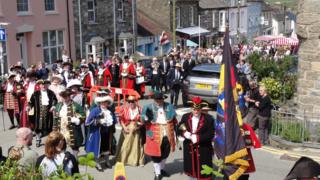 Shouts of "Oyez, Oyez" have filled Newport in Pembrokeshire after town criers from across England and Wales gathered for a parade.
The first Welsh celebration of the "original newsman" saw 12 town criers joined by their consorts on Saturday.
They came from Llandovery, Carmarthenshire, Pembroke, Cheltenham spa, Gloucestershire, and other areas.
Newport mayor Andrew Benham said: "This event is a real treat."
He added: "We residents of Newport are very proud to retain a tradition which dates back to Norman times. Historically the town crier was the original newsman. He was protected by law, and 'do not shoot the messenger' was an order."
Dating back centuries, town criers were court officers who made public announcements in the street.
'Big shout'
They were traditionally dressed in elaborate clothes, with a tricorne hat, and carried a handbell used to attract people's attention.
Those who travelled to Newport joined the town's crier, Mike Mathias, mayors, councillors and other guests for a procession through the streets and market, led by a mace bearer.
They were cheered by crowds of spectators as they assembled for the "big shout" in the town's gardens.
Criers introduced their towns during the first shout, followed by a second shout on a more controversial topic, with one proclaiming: "Newport, the jewel in the crown of Pembrokeshire."
Criers came from as far afield as Ilfracombe and Seaton, in Devon, Trowbridge and Wootton Bassett, in Wiltshire, and Crewkerne, in Somerset.
There were also representatives from Milford Haven and Haverfordwest, in Pembrokeshire.