Daniel Shepherd 'punched Jonathan Thomas from behind'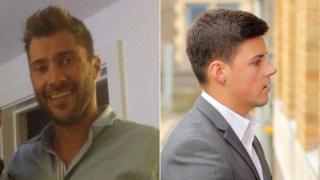 A reveller was "deliberately punched" to the floor from behind and later died following an attack sparked by him bumping into his attacker outside a pub on a night out, a court has heard.
Daniel Shepherd, 23, then fled Princess Way, Swansea, after hitting 34-year-old Jonathan Thomas, the city's crown court was told.
Mr Thomas died in hospital about an hour after the attack on 1 November.
The defendant, from Skewen, Neath Port Talbot, denies manslaughter.
Jurors heard Mr Shepherd had reacted aggressively to Mr Thomas bumping into him outside the Cross Keys pub at about 03:00 GMT.
Michael Jones, prosecuting, said Mr Thomas was heard by one witness saying words to the effect "I don't want any trouble" and his attacker's friends tried to stop a scuffle breaking out.
But Mr Jones said when the victim attempted to leave, the defendant said: "Look at you walking away, I could hit you in the back of the head now."
The court was told that was what happened next and Mr Thomas "would not have seen it coming".
Mr Jones said: "This was a punch delivered in anger and without any justification."
He added the defendant fled the scene and discarded his T-shirt in a bush near a Toys R Us store in an "obvious attempt to distance himself from what he'd done".
In the meantime, his friends stayed and tried to help Mr Thomas, who had been left unconscious.
The prosecution told how a friend of the defendant, Samuel Richards, sent him a message on Whatsapp: "You blind-shotted him Dan and he did nothing."
The reply, the court heard, was: "Say nothing", adding "Sorry you were lumbered with him, but I couldn't stick around."
Mr Shepherd was arrested at his home in Neath later that morning. The court heard he appeared to be in shock when he was informed Mr Thomas was dead.
The trial continues.