New wakeboard attraction to open in Pembrokeshire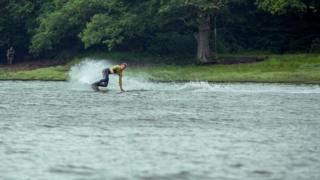 A family's plans to open a wakeboard park in Pembrokeshire have been supported after a site visit.
A planning application from Mark, Sarah and Stephanie Harris was backed by Pembrokeshire council's planning committee on Tuesday.
The siblings already have a plot of land near Oakwood Theme Park where they plan to create a lake and cable system to tow wakeboarders across the water.
Construction will start in six weeks for the park to be open by March 2017.
Stephanie said: "The team are excited to get the ball rolling and bring a new tourist attraction and multi-sports facility to Pembrokeshire."