Edwards to provide school transport as Silcox seeks buyer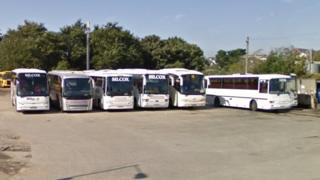 An alternative coach company has been brought in to provide school transport in Pembrokeshire.
The current provider, Silcox Coaches, is facing an uncertain future after experiencing financial difficulties.
The Pembroke Dock-based company has 28 school contracts with Pembrokeshire council, but BBC Wales understands it intends to file for administration unless a buyer can be found.
Edwards Coaches will be the new provider after half term.
Based in Pontypridd, Edwards Coaches is the largest family owned coach-company in the country employing over 500 staff and operating 260 vehicles.
Its managing director Mike Edwards confirmed all former Silcox home-to-school transport routes will be operated by Edwards when school term resumes on Monday, 6 June.
Silcox Coaches operates a further 18 public transport routes in Pembrokeshire and separate arrangements are being considered for these services.