Guillemot numbers on Skokholm island reach record level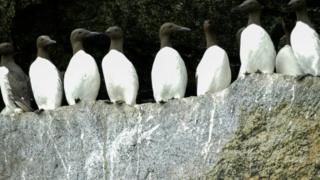 There is a record number of guillemots on Skokholm island, according to recordings carried out by wardens.
An average of more than 4,000 of the birds have been counted on the island, breaking last year's record of 3,500.
This is the first time they have reached those numbers since 1927.
The numbers of guillemots for each plot would usually be between 850 to 900, but the wardens noted a record number of 1,000 for a single area.
Richard Brown, a warden on the island, said: "They're true pelagic birds, amazing hunters.
"If they could have a floating egg, they would never need to come ashore."
Although internationally the numbers of guillemots are dropping, Mr Brown said they were experiencing "a success story" on the island as numbers increase.
Skokholm is also home to puffins whose numbers have also risen this year, reaching just under 7,000 - 100 more than 2015 and about 800 more than 2014.