Botanic garden needs to be "master of its destiny", says new boss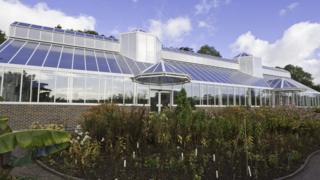 The new director of the National Botanic Garden of Wales said it needs to be "a place people want to visit".
Swansea-born Huw Francis was the head of Stòras Uibhist, an Outer Hebrides community landowner.
The garden, near Llanarthney, lost £300,000 last year, and faces funding cuts from the Welsh Government and Carmarthenshire council.
Former garden director Dr Rosie Plummer quit at the end of last year over financial concerns.
Mr Francis said: "I'm here to ensure that the garden goes from strength to strength.
"It needs to generate a surplus so it is sustainable for the future and becomes master of its destiny."
He added that the garden helps generate £8 million a year for the Carmarthenshire economy.
Under Mr Francis' leadership, the turnover at Stòras Uibhist went from £450,000 to £3.5 million, and last year generated a £700,000 profit.
He said: "The garden is a business - it has to meet those requirements. It needs to be run in a way so it is sustainable for the future.
"Theme park is probably not a description I'd use for the garden. But it needs to be a place that people want to visit."