Developer 'should rebuild' Rhydcymerau pub partly demolished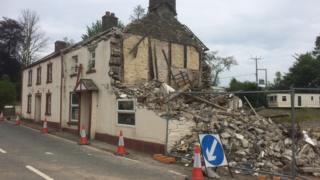 Villagers have said a property developer from Nottingham should be forced to rebuild a Carmarthenshire pub which has been partly demolished.
Michael Singh submitted an application to demolish the former Red Dragon Pub in Rhydcymerau, which closed several years ago.
But residents said work began on the building two weeks ago, before the application was considered.
Mr Singh has not responded to BBC Wales' requests for comment.
'Heart of the village'
Carmarthenshire county council's head of planning Llinos Quelch said the authority was monitoring the matter.
"There is a valid planning application in with regard to the demolition of the pub; the application is yet to be determined.
"Officers have been out on site and advised the owner not to undertake any further works and to do so would be unauthorised."
Community councillor Sylvia Maskelyne told BBC Wales the pub was "the heart of the village."
"I had my wedding reception there. People are very concerned about it. We've got nowhere in the village to meet."