Rhossili holidaymaker falls 60ft from cliffs into sea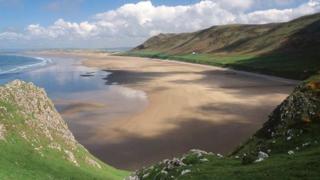 A holidaymaker fell 60ft (18.2m) from cliffs at a Swansea beach into the sea, with people entering the water to help him.
He was taken by the Coastguard's rescue helicopter to hospital following the incident at Rhossili just after 19:40 BST on Saturday.
A warning has been issued to cliff and coastal walkers about the dangers following the incident.
A Coastguard spokesman said the man, on holiday, was treated for hypothermia.
He said: "Do not attempt to climb up or down cliffs unless you are properly equipped and trained to do so."