Free wi-fi for Pembrokeshire towns and beaches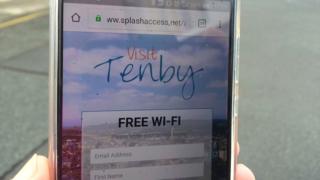 Free wi-fi will be available in all Pembrokeshire's main town centres as part of a three-year pilot project.
The £160,000 plan is part of a wider regeneration scheme funded by the council to boost business and tourism in all of the county's towns.
The wi-fi will be available in town and village centres and on some beaches at 10 different locations.
Pembrokeshire council believes it is the first local authority to offer this county-wide.
Users will have access to wi-fi for two hours at a time, before being automatically signed out.
Downloads will be restricted and users will not be able to stream films, videos, television shows or music via the wi-fi.
Window stickers will let shoppers know that they are in a free wi-fi area, and prompts will appear on their screens to guide them through the sign-in process.
Cllr Bob Kilmister, who lobbied for free wi-fi to be provided, said: "The way we shop, the way we communicate and the way we search for information has changed a lot in recent years and this is why I was keen for free wi-fi to be made available for individuals who visit our town centres.
"Undoubtedly, it will prove a great draw for people and it will benefit businesses too."
Cabinet Member for Economy and Communities Keith Lewis said: "Our town centres are facing stiff competition from the internet as well as other centres across Wales and this will ensure they are able to promote themselves in real time and more importantly, allow customers of the centres to communicate in an instant with their friends and family, at no cost.
"We're committed to supporting our town centres and free wi-fi will help that enormously."
The 10 locations are:
Newport
Fishguard and Goodwick
St Davids
Haverfordwest
Milford Haven
Pembroke Dock
Pembroke
Narberth
Tenby
Saundersfoot