Neptune's Army of Rubbish Cleaners inspire overseas project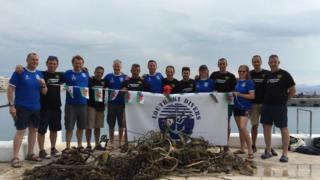 A group of Pembrokeshire divers has taken its passion for protecting the underwater environment overseas.
Neptune's Army of Rubbish Cleaners (NARC) is made up of volunteers who regularly clear sea beds of marine litter.
They were established in 2005 and inspired a similar group to be set up in Loutraki, Greece in 2013.
NARC volunteers were recently invited to visit the Loutraki Divers to take part in some joint dives.
Kitchen sink
NARC was started by Pembrokeshire diver Dave Kennard and Keep Wales Tidy.
Its volunteers carry out dives off the Pembrokeshire coast between March and September, removing litter that poses a risk to the wildlife and habitat.
They have found everything from skateboards to shopping trolleys and even a kitchen sink. The litter is loaded onto a support boat before being sorted, recorded and recycled where possible.
Loutraki Divers was the idea of Chrysanthos Chormpas and George Spyropoulos who learned about NARC's work online.
To thank them for the inspiration, they invited NARC volunteers to visit Loutraki, where they shared information and carried out joint dives in local harbours and beaches.
Together they collected 3,170 kg of marine litter.
'Unique partnership'
Among the NARC travellers was Liz Jones, a vet from Carew.
She said it was "fantastic" to have inspired the Loutraki Divers.
"After the cold sea off the coast of Pembrokeshire, decent visibility and warm water was definitely a welcome change," she said.
"Marine litter is a global issue that is faced by so many. Joining forces to tackle this problem is what it's all about."
Mr Chormpas and Mr Spyropoulos of Loutraki Divers said: "After seeing so much debris and manmade litter under the sea here in Greece, we knew we had to do something to help.
"The team from Wales has shared their experience with us and we know this is only the beginning of a great unique partnership."