Plans for new schools at Haverfordwest and Hundleton drawn up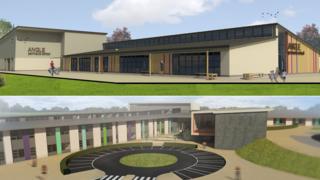 Plans for two new schools in Pembrokeshire have been drawn up and submitted to planners.
A Welsh-medium school for children aged three to 16 years could be built at Withybush Road, Haverfordwest, and a primary school in Hundleton.
Work on the primary school could begin this year, with the school due to open in September 2017 if the application gets the go ahead next month.
Pembrokeshire council and the Welsh Government are funding the projects.
Work on the Welsh-medium facility could start at the beginning of 2017, with the new school opening in September 2018, if planning permission is granted.
The primary school application involves a 120-place school and an early years unit opposite the existing Orielton Community Primary School in Hundleton.
It will serve pupils based on the Angle peninsula and will follow the closure of Stackpole, Angle and Orielton schools.