Possible record-breaking shark caught at Milford Haven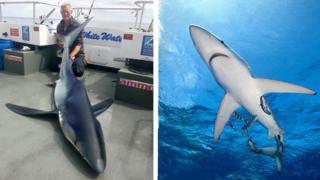 A potentially record-breaking blue shark has been caught off the Pembrokeshire coast.
Dan Fitch was on his first shark-fishing expedition when he caught the 242lb (110kg) fish off Milford Haven on Saturday.
He said Andrew Aslop, the skipper of the boat at the time, said he knew right away it was a "good catch".
The fisherman is awaiting confirmation from the Welsh Federation of Sea Anglers (WFSA) it breaks the record.
Mr Aslop was the previous record-holder, with a weight of 222lb (101kg).
Mr Fitch of Norfolk, 49, said: "It was just a feeling of sheer disbelief."
The shark would be eligible for the northern Europe record, but the British federation states the shark must also be killed, whereas the WFSA does not.
Once the fish was photographed and measured, it was released safely.