St Catherine's Island off Tenby to close amid "uncertain future"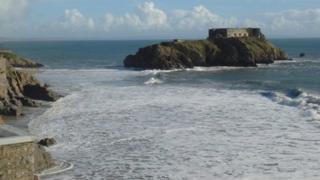 An island fort visitor attraction off Pembrokeshire will close at the end of August.
St Catherine's Island, Tenby, only re-opened as a tourist attraction last year after being closed for 36 years.
But a post on its Facebook page said: "The island and fort will once again close its gate to the public, as it unfortunately faces an uncertain future."
The Tenby Island Project Team said a statement would be released soon.
"This is neither something we could have predicted or could have foreseen in the last five years of working towards releasing the island's potential," the post added.
"All the team here on the island thank you all for your support that you have shown and appreciate this may come as shocking news."
The final day of opening will be 27 August.
Tenby landmark
The island's fort is a Grade II-listed building. It ran as a marine fort from 1868-1870, before being decommissioned in the early 20th Century, when it became a private dwelling.
It was brought back to military use during World War Two before being used as a zoo between 1968 and 1978.
The Tenby Island Project Team had been involved in a long-running planning saga with Pembrokeshire Coast National Park Authority, before a revised plan was approved in May 2015.
The team had plans to restore the fort, as well as creating a nature walk, boat landings, shops and places to sell food and drink.