Pembrey Country Park derailed mini train to restart 'soon'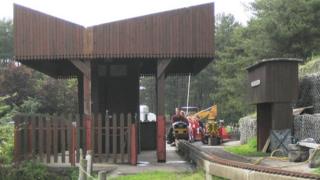 A miniature passenger train which derailed injuring 13 in Carmarthenshire could restart soon, volunteers said.
The small train came off the tracks at Pembrey Country Park at about 12:30 BST on 18 August.
An adult and three children were taken to hospital while others were treated at the park for minor injuries.
The Llanelli and District Model Engineers, which runs the attraction, said it was "extremely saddened and shocked" by the incident.
Rob Rayner, vice chairman of the Llanelli Model Engineers, said. "Our thoughts are with those who suffered injuries during this incident. Thankfully we are led to believe that they are not serious and wish them a speedy recovery.
"The group, which is made up entirely of volunteers, have run and developed this public facility for over 30 years, and it has an excellent safety record, carrying thousands of passengers and generations of families."
"We hope to re-open the railway soon and welcome families back to this popular attraction within the country park," Mr Rayner added.
The group is working with Health and Safety Executive staff who inspected the site and the train after the incident.