Penllergaer civic centre contracts exchanged for homes plan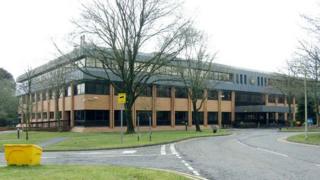 Plans to build 80 homes on the site of council offices in Swansea have moved a step closer after contracts were exchanged for the sale of the land.
Carmarthenshire developer Enzo's Homes is in the process of buying the Penllergaer civic centre site.
Money from the sale will go to build new schools and modernise council buildings.
Council leader Rob Stewart said the scheme, if approved, would provide much-needed housing in the area.
Enzo Sauro, of Enzo's Homes, said the firm was working on the finer details of the planning application.
He added the company would also gift three pieces of land to the Penllergare Trust, which manages the adjoining Penllergare Valley Woods.
The three-storey Penllergaer civic centre building first opened in 1982 for the former Lliw Valley Borough Council.
Staff at the building have been relocated.