Natasha Bradbury murder accused claims she attacked him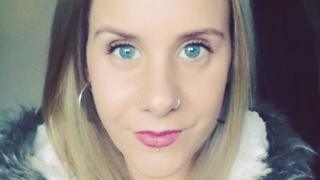 A man accused of murdering his ex-girlfriend in Pembrokeshire told a jury it was she who attacked him.
Luke Jones, 33, is on trial at Swansea Crown Court following the death of Natasha Bradbury, 27, in her Haverfordwest flat on 22 February.
The prosecution claim he beat her to death in a jealous rage after finding out she had been with another man.
But Mr Jones, a pipe welder from Milford Haven, said "she jumped at me" and "went to headbutt me".
Tuesday's proceedings involved going through dozens of text and phone messages between Mr Jones and Miss Bradbury in the week leading up to the incident.
Exchanges saw Miss Bradbury say they were breaking up and Mr Jones saying he still loved her.
'Blood everywhere'
Giving evidence, Mr Jones said he returned to Miss Bradbury's flat on the Sunday and heard shouting and banging from downstairs.
He said she accused him of sleeping with another woman.
"She jumped at me, she lunged at me going for my face. I grabbed her head. She went to headbutt me. I grabbed her by the throat and pushed her back. I kicked her in the body. She went over the coffee table and landed on two wooden cabinets," he told the court.
He said "there was blood everywhere" and, after coming back from the bathroom, "Natasha never moved".
"My head was all over the place, I was running around," added Mr Jones.
He dialled 999 and police and an ambulance arrived.
The case continues.