Scrap dealers George and Nenning Jones ordered to repay £289,000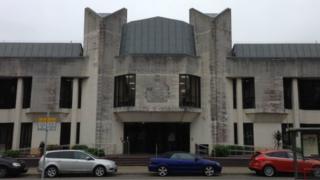 A father and son who made over £1.6m trading scrap metal without a permit in Pembrokeshire must pay £289,000 or go to jail.
The order was made against George Jones, 60, from Kilgetty, Nenning Jones 36, of Sageston.
It comes after they were convicted of operating the facility without a permit at Carew Airfield near Haverfordwest.
Father and son risk over 18 months in prison if the money is not repaid, Swansea Crown Court was told.
George Jones was said by Judge Paul Thomas to be the driving force behind Enviroventure Ltd and GJF Recycling Ltd.
The court heard that Enviroventure had operated at the airfield since 2002 but in 2011 Natural Resources Wales (NRW) launched a prosecution.
Judge Thomas said to avoid legal consequences GJF was set up to get around the prosecution.
Profits
Tim Evans, prosecuting on behalf of NRW, said the accounts of both companies had been so poorly kept that even trained investigative accountants could not work out how much profit they had made.
Judge Thomas ruled that George Jones had made £907,321 out of criminal behaviour. He will have to raise and repay £208,000 within three months.
Nenning Jones was ruled to have benefitted by £154,229, of which £81,287 could be repaid within three months.
George Jones former partner, Jennifer Frearson, 48, the only listed director of GJF, was ruled to have benefitted by £113,415 but now had little assets.
She was told she would serve seven days in jail if she did not hand over £364 and the value of two cars.