Wild goshawk rescued from Carmarthenshire chicken run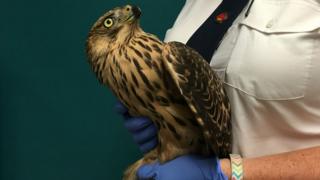 A rare bird of prey has been rescued and returned to the wild after it was found in a chicken coop.
The goshawk was discovered at a Carmarthenshire smallholding after the owner was alerted to a "commotion" coming from the chicken run.
The bird, which is a type of large hawk, was confined until the RSPCA attended and collected her.
All chickens escaped to the upstairs of the coop and were uninjured.
RSPCA animal collection officer Ellie West, who completed the rescue, said it was a "highly unusual find" and her "first encounter with a wild goshawk".
She said: "It was some ordeal for the chickens. One hen ran into the coop, and initially still had the goshawk clinging to her back.
"Fortunately, they all escaped unharmed, and were fine - as was a pretty startled goshawk.
The bird of prey was monitored overnight before being released.