Lifebelts 'missing' by Swansea river where Alexander Pavlou died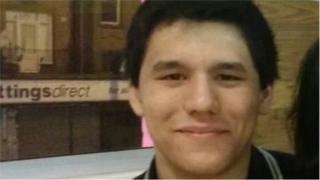 Concerns have been raised about claims lifebelts were missing by a Swansea river where a student died.
Alexander Pavlou's body was found in the River Tawe two days after disappearing following a night out in May 2015.
An inquest heard how a passer-by heard cries from the water and tried to help, but the lifebelt holders were empty.
Assistant coroner Paul Bennett said the lack of the equipment was a "potential systemic failure".
The inquest was adjourned until November so evidence could be heard about the missing equipment.
Mr Pavlou, 19, had been turned away by a nightclub in the city's Wind Street because he was drunk on 27 May 2015.
The inquest jury had previously heard how he had spoken to police officers on two separate occasions before he disappeared.
During the hearing on Wednesday, Andrew Dicks, who was walking along the River Tawe at 03:25 BST the following morning, told the jury he called 999 after hearing cries from the water.
He said there were no lifebelts inside the designated holders and there was a gap in the railings.
'Vital life aid'
A recording of the 999 call was played for the jury, which the family's solicitor claimed proved Mr Dicks was searching for something to rescue the student from the river.
PC David Charles Harrall said the missing lifebelts raised "obvious questions about the monitoring/inspection arrangements to ensure this vital life aid is present when it was needed to assist Alex".
Adjourning the inquest Mr Bennett said: "It would appear there were two lifebelt stations devoid of lifebelts. This fact clearly raises an issue of a potential systemic failure.
"These factors inevitably mean further evidence will be required."