Llanelli girlfriend murder trial jury considers verdict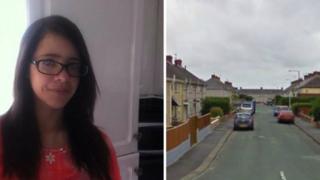 A jury has retired to consider its verdict in the trial of a man who denies murdering his girlfriend in Carmarthenshire.
Katrina Evemy, 19, suffered stab wounds to her head, neck and body in an attack in front of her 22-month-old daughter in Llanelli in April.
Dylan Harries, 22, her on-off boyfriend, claims he visited her home and found her covered in blood.
The case at Swansea Crown Court has been adjourned until Friday.
The trial was told Miss Evemy, believing the relationship was over, had kissed another man, leaving Mr Harries feeling "betrayed".
Mr Harries said he spoke to Miss Evemy on the phone on the afternoon of the attack, but the call ended abruptly so he decided to walk to her home.
Miss Evemy died in hospital six days after the attack in Graig Avenue on 13 April.
Jurors began their deliberations on Thursday.