Dylan Harries jailed for Katrina Evemy murder in Llanelli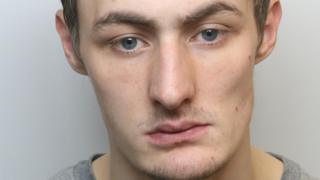 A man who carried out a "murderous rampage" by stabbing a young mother to death in front of her 22-month-old daughter has been jailed for life.
Dylan Harries attacked Katrina Evemy, 19, at her home in Graig Avenue, Llanelli, Carmarthenshire, on 13 April.
On-off boyfriend Harries, 22, denied murder but was found guilty at Swansea Crown Court.
Harries was told he must serve a minimum of 27 years in what Mrs Justice Whipple said was a "merciless" killing.
"You robbed her of her life, all her dreams, expectations and hopes," she said, calling his actions a "murderous rampage".
"The consequences of Katrina's death on her family have been devastating."
Harries, dressed in a plain grey jumper, sat shaking his head throughout sentencing.
The trial had previously heard Miss Evemy suffered multiple stab wounds to her head, neck and body.
On the morning of her death, Harries said the pair had a text conversation after falling out the night before while out in Llanelli.
The court heard she had kissed another man after believing her relationship with Harries was over - leaving him feeling "betrayed".
Harries spoke on the phone to Miss Evemy on the afternoon of the attack but the call ended abruptly so he decided to walk to her home.
He claimed he had found her there covered in blood but the jury rejected this. She died in hospital six days later.
Patrick Harrington QC, for the prosecution, said in the 40 minutes it took Harries to walk to Miss Evemy's home, he "should have been cooling himself down" but instead was "winding himself up".
The court heard he had left his keys and mobile phone behind but had picked up a knife from his mother's kitchen, which he concealed in his sleeve.
Christopher Clee QC, for the defence, acknowledged it was "a savage attack... but it was not sadistic".
'Unrecognisable'
In a victim impact statement read out to the court at the sentencing on Monday, Miss Evemy's mother Amanda Simon described rushing to Swansea's Morriston Hospital to be told her daughter was in theatre.
The statement said: "When Katrina was brought out of theatre she was unrecognisable.
"It was like a horror film that the family were stuck in and could not get out of."
She said her granddaughter [Miss Evemy's daughter] had many sleepless nights following the attack and would "cry and cry".
Ms Simon added: "She would not acknowledge her own mother by name when she was shown photographs.
"Every time someone mentioned her mother by name, she would scream 'no'."
Dean Quick from the Crown Prosecution Service, said the attack on Miss Evemy was "horrendous".