Spice users sedated after attacking hospital staff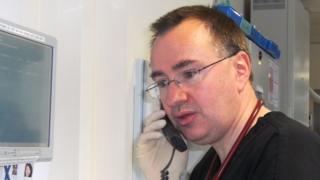 Patients high on the drug Spice have been given general anaesthetic to calm them down after biting and kicking staff at two Welsh hospitals.
Emergency medicine consultant Andy Macnab said there had been a "large number" of incidents at Bridgend's Princess of Wales Hospital and Swansea's Morriston Hospital.
He said: "It's getting worse."
Hospital admissions due to cannabis and drugs such as Spice have more than doubled in the last five years.
Mr Macnab said aggressive behaviour being seen by staff included biting, kicking, swearing and smashing equipment and windows.
"It used to be one or two cases a year, then a few a month and now it is three or four each night at weekends," he said.
"It can take several staff and a couple of hours to deal with them."
He said the age of Spice users ranged from 17 or to "people in their 50s".
'Risk to themselves'
"They arrive in the back of police vans or by ambulance, sometimes unconscious," Mr Macnab said.
"Sometimes we have to sedate them or even give them a general anaesthetic because they are a risk to themselves and others."
A Public Health Wales report found annual hospital admissions related to cannabis and "synthetic cannabinoids" such as Spice have increased from 518 in 2011-12 to 1,323 in 2016-17.