Tata Steel announces £30m Port Talbot steelworks investment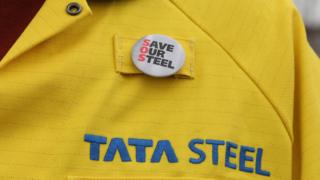 Tata is to invest £30m in its Port Talbot steelworks, the company has announced.
The Indian firm said it would install a 500-tonne steelmaking vessel at the plant and make other upgrades to prepare it for the future.
The equipment will help it produce advanced forms of steel used in electric and hybrid cars as well as the building industry, Tata said.
It follows recent calls for Welsh jobs to be safeguarded at the plant.
Announcing the investment, part of a series of planned investments in its UK business, the company said it would also replace cranes at the plant and install emission-reducing systems.
Port Talbot's project manager Dave Murray said the new steelmaking vessel was needed.
"We have two steelmaking vessels and they run 24/7 at temperatures of up to 1,700C, apart from short planned maintenance periods. Despite this they last for around 20 years each and replacing them is an important part of ensuring reliable operations," he said.
Tata Steel UK chief executive Bimlendra Jha said: "These investments will help us to increase our reliability and demonstrate our commitment to the longer-term future of steelmaking in the UK."
He added that the UK steel industry was "still facing challenges" and it was "vital we continue to work with government to find ways of levelling the competitive playing field with our European competitors".
Analysis from Brian Meechan, BBC Wales business correspondent
This will be welcomed by workers as a sign of Tata's commitment to investing in Port Talbot.
They already had assurances from the company that it would remain operating as the merger with the German steel giant Thyssenkrupp continued.
But this £30m investment is only part of an agreement the company has made with unions for £1bn to be invested over 10 years, if market conditions allow it.
What unions really want to see is Tata relining Blast Furnace Number 5 at Port Talbot which would cost a substantial sum of money and show a long-term commitment to the plant.
Further investment by Tata is in the pipeline including at its other Welsh sites.
Tata announced in September it had agreed the first stage of a deal to merge with German steel manufacturer Thyssenkrupp - which is expected to lead to about 4,000 job losses across the firm.
It led to calls for assurances over workers' jobs, with First Minister Carwyn Jones saying he "can only take Tata at their word" that the Welsh workforce would be unaffected.
Welsh Government Economy Secretary Ken Skates said he had been "given assurances" that there would be no closures of "assets that exist across Wales and the UK".
Almost 7,000 people are employed by Tata in Wales, including more than 4,000 in Port Talbot - the largest steel works in the UK.