Margam Country Park turbine restoration to power estate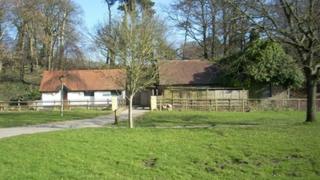 A historical turbine house which was one of the first in the UK to power a home will be restored to once again provide electricity to Margam estate.
It was installed at Margam County Park, Neath Port Talbot, in 1891, at the request of then-owner Emily Charlotte Talbot.
The hydro-electric system, powered by a nearby stream, initially produced enough electricity to power 400 lamps.
But it was replaced in the 1950s and has not been used for many years.
The original turbine was devised by Drake and Goreham of Westminster but it was removed and taken to South Africa more than 60 years ago.
The council said the Grade II-listed turbine house was of major historical importance, for Port Talbot and the UK, as Margam Castle is thought to be the second domestic house in Britain to be supplied with electricity.
The refurbishment of the building is expected to be completed in the new year, while the turbine will be back in place by spring 2018.
It will then produce power for buildings on the estate, including the Orangery, with any excess fed back to the National Grid.
In addition to housing the turbine, the building will also be used as a workshop, exhibition space and bat roosting area for the Friends of Margam.
Neath Port Talbot council leader Rob Jones said: "This is an extremely interesting project of historic importance and an excellent example of renewable energy generation.
"This project will bring savings to the operation of the country park, reduce the carbon footprint and at the same time provide an educational resource for local residents, visitors and schools."
The restoration is being overseen by Neath Port Talbot council, with support from Cadw and Friends of Margam Country Park.