Second inquiry opens into plan for Pembrokeshire wind farm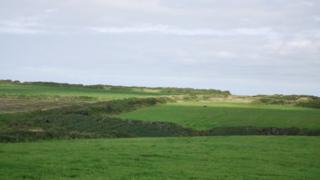 A second public inquiry has opened into controversial plans to build a wind farm in Pembrokeshire.
The application for five 100-metre turbines was turned down almost three years ago and also failed an appeal.
But a High Court judge ruled the case should be re-heard with a different planning inspector due to an error.
The appeal by Rhoscrowther Windfarm Ltd was rejected in December 2015 because the farm was expected to cause "significant visual harm" to the area.
The site is close to the Pembrokeshire Coast National Park and coast path, as well as a grade one listed church.
However, the site on the Angle peninsula is within the Milford Haven Enterprise Zone which is already dedicated to the energy sector.
The Welsh Government has set a target to have 70% of energy provided from renewable sources by 2030.
Pembrokeshire County Council will have its own representation at the inquiry which is due to run for four days. A decision is expected next year.