Steam line needs £150,000 to protect vintage carriages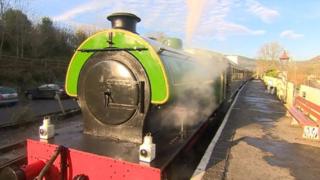 Rail enthusiasts are in a race against time to save their 100-year-old carriages from rotting.
Volunteers from the Gwili Steam Railway in Carmarthenshire need £150,000 for a new shed to protect the vintage rolling stock.
The cost of the project is £300,000 but half of that sum has already been secured through grants and donor pledges.
The railway attracts 35,000 visitors a year.
In July, the Bronwydd-based attraction doubled the length of its track - to 3,5 miles (5.6km) - by extending to Abergwili Junction.
Carriage manager Dewi Jones said many of the older carriages are made from wood and metal and need protection from the weather.
He added: "They're outside in all weathers. They rot and rust. These carriages must be maintained, you cannot go out and buy new ones."
"If you had an old Rolls Royce, you would keep it in a garage, so it's important for us to safeguard these historic assets for future generations."
Gwili Steam Railway vice chairman Rob Phillips, a volunteer since he was aged 12, said: "The current shed at Llwyfan Cerrig dates back to the second world war and can only fit one carriage in it.
"It's no longer fit for purpose and we need something purpose-built.
"What we're doing here is keeping history alive for generations to come. The new facility will save our historical fleet for the future."