Swansea Walkabout bar worker died after lift crush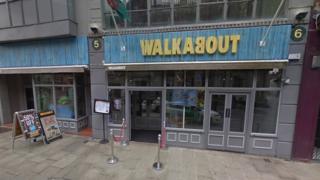 A bar worker died after becoming trapped by furniture in a nightclub lift, an inquest has heard.
Cyran Stewart, 20, was moving heavy bar stools and chairs from the basement of Swansea's Walkabout bar when he became pinned against the side of the lift.
The jury heard he was stuck for over 30 minutes and died from his injuries in Morriston Hospital four days later on 28 February, 2014.
The inquest at Swansea Civic Centre is expected to last two weeks.
Acting senior coroner, Colin Phillips explained a chair jammed against the steel framework of the shaft as the lift ascended, causing a 20kg stool to crush Mr Stewart.
The jury was shown CCTV footage of the moment a member of staff heard screams and of the emergency services arriving at the scene.
The lift came to a halt short of the ground floor and staff tried to free it by turning an emergency wheel in the basement.
Mr Stewart, originally from Shifnal in Shropshire, was unresponsive after being released by firefighters.
'Safety override'
The jury was also shown a Health and Safety Executive video which explained how staff using the lift often used an override switch to keep its safety door open.
Huw Griffiths from South Wales Police's major investigation team told the inquest that there had been a number of incidents involving staff having to be released from the lift.
"It was not an isolated incident", he said.
Sgt Thomas Richardson said he had been on patrol nearby when the alarm was raised, and explained how it had been "impossible" to get to Mr Stewart.
He said he could see him through an 18 inch gap in the lift door, but could not reach him.
He said: "The legs of a chair had jammed the lift and the force of that had caused other chairs to shunt across the floor of the lift and trap Cyran against the wall."
He added the lift's internal gate was open.
'Extremely proud'
A post-mortem examination revealed Mr Stewart died from a brain injury due to pressure on his chest preventing him from breathing. He was also said to have suffered a cardiac arrest when he was trapped.
Mr Phillips told the jury the inquest would attempt to establish the cause of Mr Stewart's death by looking at the condition of the lift and the way it was operated.
In her written evidence, Mr Stewart's mother Elizabeth, said she was "extremely proud" of her son.
She explained that her other son Gavin, the bar's deputy manager, had told her that two people were meant to move furniture.
"One at the bottom was meant to load the furniture in the basement, and another was meant to unload it upstairs," she said.
The inquest continues.