Betty Guy murder trial: 'I'll finish off ill gran'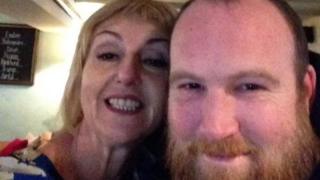 A former soldier accused of killing his ill grandmother told her he would "finish her off" if it got too much, a court has heard.
Barry Rogers, 33, and his mother Penelope John, 50, of Pembrokeshire, are alleged to have killed Betty Guy, 84, of Johnston, in November 2011.
Mr Rogers' ex-partner claims he told her his grandmother had cancer. The court has already heard she did not.
Both deny murder at Swansea Crown Court.
Rhian Morris told the jury Mr Rogers had a very close relationship with his grandmother and he would always try to cheer her up, especially as she had become increasingly unwell.
She said she was at Mrs Guy's home when Mr Rogers turned to his grandmother and said: "Don't worry Nan, if it gets too much I'll finish you off".
Ms Morris said the comment was only said once and she thought it was a joke, adding Mrs Guy was always good with banter.
Mr Rogers and his mother are accused of giving Mrs Guy a cocktail of drugs and alcohol before smothering her.
Ms Morris told the court Penelope John always cared for Mrs Guy and "didn't like seeing her mother struggling because she was a proud lady".
She told the court how late one night in November 2011, she was at home in Frome, Somerset, with Mr Rogers when his mother called.
She heard him saying: "Oh, it's time is it?" before he walked out of the room. He returned later and said his grandmother was ill and he needed to return to west Wales.
She spoke to him the following night and he told her he had been drinking whiskey and was upset.
When he returned to Somerset, she asked him why and he told her his mother had given his grandmother whiskey with tablets, adding: "It made her sleepy."
She told the court: "I thought it might have been to help her take her life."
Ms Morris said she attended Mrs Guy's funeral but thought it "strange" Mr Rogers did not sit with his mother during the service.
Following Mrs Guy's death, she said Mr Rogers got angry and they argued a lot.
During one row, he told her: "I'll do it in your sleep, no one will know about it" as he held a pillow to his face.
She said Mr Rogers added: "I'll do it to you like I did to her", but she said she did not know who he was talking about.
The pair's relationship ended about 10 months after Mrs Guy's death after Mr Rogers attempted to take his own life.
A statement read to the court from Mrs Guy's other daughter Lorraine Matthews heard her mother was "convinced she had cancer" but admitted she had not been told this by doctors.
She said her sister called her to tell her of her mother's death, adding: "Penny said something like it was her time to go, she wasn't well... I asked Penny why she hadn't rung us before."
The trial continues.