Betty Guy murder trial: Man 'had to smother gran twice'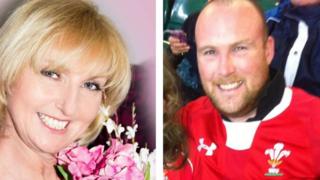 A former soldier accused of killing his grandmother had to smother her twice before she died, a court has heard.
Barry Rogers, 33, and his mother Penelope John, 50, of Pembrokeshire, are alleged to have killed Betty Guy, 84, of Johnston, in November 2011.
Ms John is accused of feeding her mother a cocktail of crushed tablets and whiskey before her son allegedly smothered her with a pillow.
Both deny murder at Swansea Crown Court.
On Thursday, the court heard evidence from Sandra Adams, an ex-girlfriend of Mr Rogers, who reported him to the police.
She said: "[He said] that he had killed somebody ... I asked him was it in the Army and he said, 'No, it wasn't'.
"He then told me that it was his nan that he killed."
Ms Adams said Mr Rogers told her he had driven from Frome in Somerset, where he had been living, after receiving a call from his mother telling him that "it was time".
She said he also told her Mrs Guy had been terminally ill with cancer and "it was her time to go". The court has already heard she did not have cancer.
She continued: "He said he went in to his nan and they gave her medication... he waited a little while for the medication to kick in and then he placed a pillow over her face and smothered her.
"The grandmother was fighting back and he stopped... he had a glass of whiskey and then went back to her and placed the pillow back over her face a second time and she passed away then."
Ms Adams' mother Linda Pritchard-Jones said Mr Rogers had also confessed to her that he had smothered his grandmother.
She said: "He told me that his nan had cancer and that when the time came his nan had asked him to help her finish her life."
She said he told her he had to smother her twice before she died
"I felt so uncomfortable and awkward," she said.
Ms Adams' sister Tracey Adams said she was at a soft play centre for a child's birthday party with Mr Rogers when he told her he had "helped his nan along with a pillow".
She told the court: "I was very close to my grandparents and I said I wish my nan and granddad were here.
"He said, 'I helped my nan along with a pillow. I wish she was here too'."
On Wednesday, the court heard from another former partner, Rhian Morris, who said she had been at his home when his mother called and she heard him saying: "Oh, it's time is it?" before he walked out of the room.
She said he returned later and said his grandmother was ill and he needed to return to west Wales.
The trial continues.