Lollipop patrols cuts in Carmarthenshire despite safety fears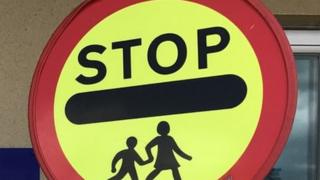 Cuts to school crossing patrols will go ahead in Carmarthenshire despite fears children's safety will be put at risk.
Lollipop patrols on low risk routes will be slashed as the council tries to save £38,000 a year.
It comes as the authority approved a 4.45% council tax increase for 2018-19.
The council's education spokesman Glynog Davies said a new £500,000 fund would be set up to help schools make ends meet.
"We have done our best for the children of Carmarthenshire," he told the council on Wednesday.
Funding for schools will remain static at £108.7m for the next financial year, with a new development fund set-up for school's facing difficulties.
But the funding freeze for schools was criticised, with opposition councillors saying schools would face making redundancies to maintain standards.
The authority voted to plough ahead with about £8m of other cuts to other services, including in lollipop ladies at "low risk" routes and a reduction in the road safety budget.
This is despite a consultation report raising fears patrols are already understaffed and reducing them further will "increase the risk of children being seriously injured on their way to school".
School meal prices will also increase by 10p to £2.70 in 2019 and £2.80 in 2020.
The council will also stop collecting hygiene waste separately to save £218,000 over three years, meaning incontinence pads and other sanitary waste.
This is despite public concerns mixing needles with household waste would put children and animals in danger.
Labour councillor John Prosser said the cuts were dangerous and unfair as children "could not vote".
The authority had planned to cut funding for respite care centres for disabled people, but the plans were shelved after a public consultation.