Carmarthenshire cottage hit by 100ft tree in Storm Emma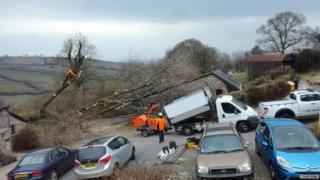 Owners of a Carmarthenshire cottage have told how they were trapped inside when 100ft tree crashed through their roof.
The black poplar came down on the home in Whitemill as Storm Emma hit on Thursday.
Christina and John Laben were in bed when the tree fell, trapping them inside until Friday lunchtime.
Ms Laben, 62, said neighbours were banging on windows trying to explain what hit them.
"The branches came through the roof. One was by the water tank," she said.
"Another branch was down by the bathroom sink, another came down through the corner of the shower and another by the door of the bathroom.
"We couldn't get out of the house because of the branches. The neighbours were banging on the windows trying to explain what had hit us".
The 100ft (30m) tree also damaged Ms Laben's car, and caused extensive damage to the couple's bathroom.
They were left without water until Tuesday.
"It took a tree surgeon all day to clear the worst of it", she said, "The builders have told me they have never seen anything like it."