Port Talbot's Plaza cinema set for community hub revamp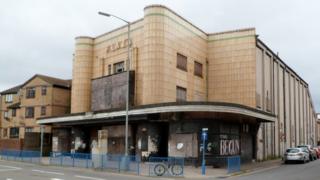 A derelict former cinema, where Hollywood stars Richard Burton and Sir Anthony Hopkins once watched films, could be brought back into use.
Port Talbot's Grade Two-listed Plaza Cinema has not been used since it closed in 1999.
But Neath Port Talbot council plans to turn it into a community facility with a hall, fitness centre, cafe, shops and offices.
It is set to get a £5m Welsh Government grant, if a group is found to run it.
Cabinet member, Steve Hunt, said bringing disused buildings back into use was "the way forward", adding securing the cinema's future had been a "long and difficult journey".
Councillor Robert Wood questioned the need for another community facility, suggesting it would be more worthwhile to broaden the building's purpose in case someone wanted it for a different use.
However, the council's head of property and regeneration, Simon Brennan, said the authority had tried to make the proposals as flexible as possible, within the grant funding terms set by the Welsh Government.
Highlighting redevelopment work nearby such as the town's former magistrates' court being turned into offices, and the former police station being converted into flats and shops, Mr Brennan said the community use "fits in quite nicely".
Work on the building is expected to start early next year.
Port Talbot councillor Saifur Rahaman said: "I'm pleased that the plaza project is finally making some progress."
Plaza history
It was built in 1939 and opened in April 1940
The cinema closed in 1983 and was converted into a bingo club, but reopened as a cinema in October 1985
It showed its last film - Prince of Egypt - on 4 January 1999
It gained Grade Two-listed status in 1999 because it was considered a very rare example in Wales of 1930s cinema architecture, with an interior that was largely intact
In 2009, Neath Port Talbot council bought it with the aim of redeveloping it
In October 2017, the council received a "funding in principle" offer of a £5.5m EU grant, through the Welsh Government's Building for the Future programme