Unlucky seal rescued for second time on Welsh coast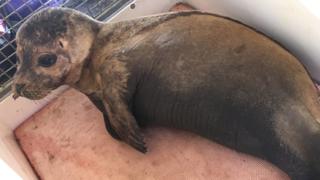 A seal is being nursed back to health for the second time after being found in a poor condition eight months since its first rescue.
The RSPCA stepped in after Prius was spotted at Jersey Marine, near the Swansea University Bay Campus.
It was found to weigh 14.9kg, having lost 11.5kg since its release in January after being taken in as a pup last July.
Prius was initially found orphaned at Ballyvaughan, Republic of Ireland.
The RSPCA has been able to find out about the seal as it had been tagged by Seal Rescue Ireland.
It is currently undergoing veterinary care due to significant fur loss to its flanks and stomach.