Carmarthenshire crash victim 'was not obvious to driver'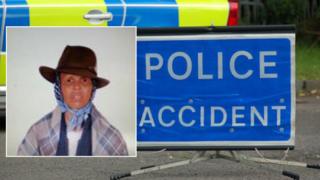 An inquest heard how a woman known as "the bag lady" was struck down by a van while walking along a Carmarthenshire road at night.
Pasqual Lorentz, 58, who was originally from Birmingham, died after a green Volkswagen Transporter hit her in January.
She was walking on the B4302 north of New Inn and wearing dark clothes.
Coroner Mark Layton said her presence "wouldn't have been obvious to the driver".
She lived alone with no known family and, despite an appeal put out by Dyfed Powys Police, no family members have come forward.
The inquest heard that Ms Lorentz had been known previously as Gwendy - or Wendy - Tolley and had studied law at Wolverhampton University.
Nomadic life
She had worked in Birmingham as a clothes designer and then become known as one of the city's first female taxi drivers, the inquest heard.
However, the coroner was told a relationship break-up led to Ms Tolley suffering mental health problems.
She started leading a nomadic life, and because of suffering from alopecia she took to wearing headscarves and hats.
She moved to Wales and became known as "the bag lady" because she was often seen walking along roads carrying her possessions in bags, the inquest was told.
In a statement the driver of the van, Orwel Morgan, described hearing a sudden loud bang and said he thought he had struck a sheep or a deer.
Mr Morgan reported the collision to the police. Ms Lorentz died of her injuries at the scene.