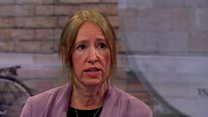 Jihadi Jack parents: Our son doesn't hate us
29 June 2017 Last updated at 13:10 BST
The parents of the 21-year-old Oxford man dubbed "Jihadi Jack" describe the last time they spoke to him.
Jack Letts is suspected of going to Syria to fight for so-called Islamic State - he claims he is opposed to IS and has left that area.
His parents, Sally and John Letts, are calling on the British authorities to do "whatever they can" to help him.
Watch the Victoria Derbyshire programme on weekdays between 09:00 and 11:00 on BBC Two and the BBC News channel.