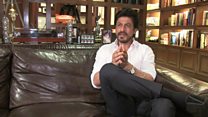 Video
'I travel in the trunk of my car sometimes'
Bollywood's Shah Rukh Khan spoke to Haroon Rashid about unusual ways he avoids being mobbed by fans.
Shah Rukh Khan has spent 25 years in Bollywood but says he still finds being in the public eye overwhelming.
His next film, Raees, will be in cinemas around the world from the end of January.
SRK, as he's known, spoke to BBC Asian Network's Haroon Rashid about the unusual methods he uses to avoid being mobbed by fans.
Go to next video: Motherhood in the time of Zika