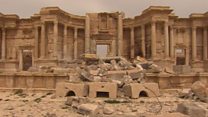 Video
IS leaves trail of destruction in Palmyra
Lyse Doucet goes inside Syria's famed Roman-era city, badly damaged by Islamic State militants.
The BBC's Lyse Doucet says the trail of destruction left by Islamic State militants in Palmyra extends beyond the ancient Syrian city's famous Roman-era ruins.
She finds the city council building in utter ruin and the basement of a deserted building filled with a paperwork detailing the jihadist group's brutal rule.
Go to next video: Motherhood in the time of Zika