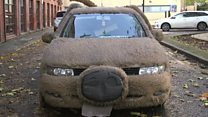 Video
Is this Leeds car owner barking mad?
Sam Wellman from Leeds has modified his car to make it look more like a big dog - albeit one with wheels
Mr Wellman, the owner of the car/dog, said he did it so he did not have to give his girlfriend lifts to places.
He says it's worked... but that could just be a shaggy dog story.
Go to next video: Unusual hummingbird moth 'defies myths'