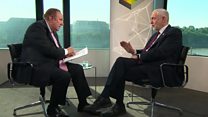 General Election: Does Jeremy Corbyn back his own party's Trident stance?
26 May 2017 Last updated at 18:25 BST
Labour leader Jeremy Corbyn has refused to give his support to the renewal of Trident nuclear weapons, despite the policy being in the party's manifesto.
In a BBC One interview with Andrew Neil, Mr Corbyn was repeatedly asked whether he was personally in favour of renewing Trident.