Sudan: Air strike kills two in Port Sudan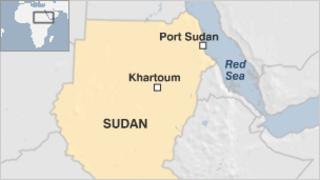 A "foreign" aircraft has destroyed a car near Sudan's city of Port Sudan on the Red Sea coast, killing its two passengers, local officials say.
Police say a missile probably came from the direction of the Red Sea. Some sources suggest two helicopters could have been involved.
The car, said to be a Hyundai Sonata, was about 15km (nine miles) south of Port Sudan at the time.
There was no immediate word on the identity of the two victims.
Security forces have now sealed off the area, reports say.
So far no-one has claimed to have carried out the attack.
"We heard three loud explosions," a source at Port Sudan airport told Reuters news agency.
"Eyewitnesses told us they saw two helicopters which looked liked Apaches flying past."
The car had been travelling into the city from the airport, one Sudanese official said.
Gaza connection?
In 2009 the Sudanese authorities said a convoy of arms smugglers was hit by unidentified aircraft in Sudan's eastern Red Sea state.
There was speculation at the time that the strike may have been carried out by Israel to stop weapons bound for Gaza.
The then Israeli Prime Minister, Ehud Olmert, appeared to give credence to an Israeli hand in that attack, saying "we operate everywhere where we can hit terror infrastructure - in close places and in places further away".
Israel has not commented on the latest incident.
The BBC's James Copnall, in the Sudanese capital, says Hamas, the group which controls the Gaza Strip, is on good terms with Khartoum.
There has been an uneasy peace in eastern Sudan for several years, following one of Sudan's many civil wars.
But the region is very underdeveloped even by Sudanese standards, and there are fears about increased illegal activity there, our correspondent says.