Family of late Cuban dissident Zapata emigrate to US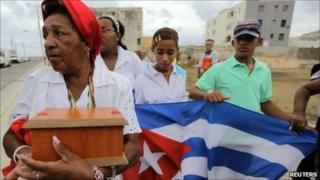 The family of renowned Cuban dissident Orlando Zapata Tamayo, who died last year on hunger strike, have left their country for the US with his ashes.
Thirteen family members were due on a flight from Havana to Miami on Thursday, his mother said. Airport officials said they had arrived.
The family had earlier received visas allowing them to emigrate to the US.
Zapata was 42 when he died in February 2010 after an 85-day hunger strike demanding better prison conditions.
He was the first Cuban activist to starve himself to death in protest in nearly 40 years, and his death drew international condemnation.
'Satisfied'
Earlier, Zapata's mother, Reina Luisa Tamayo, said she and her husband, Jose Ortiz, and 11 others were taking a flight to Miami.
"This whole process has been very hard, but we have endured it," she told Reuters news agency.
"It satisfies me that I have in my possession the ashes of my son and that I could see everything from the exhumation until they delivered his warm ashes," Ms Tamayo said.
The process has been directed by the Cuban government.
Zapata's body was exhumed on Tuesday in the eastern city of Banes before it was taken by the family to Havana and cremated.
Ms Tamayo has insisted she would not leave without the remains of her son.
The International Rescue Committee in Miami, which assists refugees, said the family would be settled in four apartments and given food and clothing.
Zapata, a former construction worker, had been jailed since 2003 and was considered a prisoner of conscience by Amnesty International.
Since his death, the Catholic Church in Cuba brokered a deal with the Cuban authorities - who regard dissidents as criminals disloyal to the communist state - to free more than 50 from prison. Many are now in Spain.