Asian megacities: Your experiences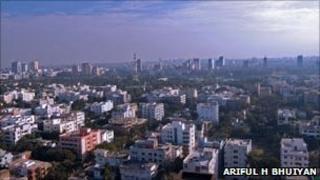 As part of our Power of Asia series the BBC is examining megacities and the urban development of other Asian cities.
BBC News website readers have been sharing their experiences of what life is like living in an Asian megacity.
Here they discuss the pros and cons of life where they live.
Dr Imrul Hasan, Dhaka, Bangladesh
I arrived in Dhaka in 1993 and have been living here ever since. I work in a small private hospital in the city but I have a second, part-time job in another hospital because the living costs are so high that I need the extra income.
In the last five to 10 years, living costs have gone up threefold. I think this is probably because of the rising population and I suppose that costs have risen throughout the world.
When I first came to Dhaka I lived in the old town. In those days, the area was full of old buildings which have since been replaced by newer ones.
But despite its more modern appearance, there are many problems in the old town. There aren't the facilities to serve the number of people now living in that area. There are water shortages and problems with traffic.
I now live on the other side of Dhaka, in Mirpur. I like it better than old Dhaka but we still have problems with power and water shortages and transport. I don't think the infrastructure here is very well developed and I don't feel optimistic about great improvements in the future.
It is stressful living in Dhaka but if I lived outside the city I wouldn't be able to find a job.
It is very busy here, busy and crowded. However, there is a very strong sense of community. People are still very helpful and friendly - I have many friends and neighbours whom I know well. People are always willing to help each other.
Raymond, Guangzhou, China
We run an independent fashion label which operates out of London and Guangzhou, China. We design the clothes in London but source our materials and develop the products in China.
There is a strong consciousness here that Guangzhou is a megacity. It is the third most populous city in China as well as being the largest trading city here. Anyone in business - particularly those working with textiles - will know about Guangzhou.
This city has a rich history. This is where the opium war between Britain and China took place. It doesn't have the monuments of, say, Beijing, but it has the local markets and the fishing villages that indicate its importance as a trading centre, if not a tourist base.
There are many international businesses operating out of Guangzhou - not just Europeans but also people from the Middle East and northern Africa.
I've always lived in big cities - London, Hong Kong. Guangzhou is much like other big cities. The pace of life is fast compared with more remote cities and villages in China. With this comes a certain amount of daily stress.
Guangzhou is becoming quite cosmopolitan. There is a wide choice of foods and restaurants. Foreign visitors have quite a pleasant experience here and European tourists find it cheap although the costs are rising for locals.
I think life can be quite hard for migrant workers here - many of them struggle to find work. Typically the gap between rich and poor is quite high, which would also be the case for cities like Shanghai or Beijing.
Hasan Siddique, Karachi, Pakistan
I was born in Karachi and now live here, having studied for a period in the UK.
In my lifetime I have seen a lot of growth in this city. There are definitely a lot more people. Some of these people arrived after the floods, having come from the outskirts of the city.
Fortunately I live in a part of the city which is less congested but we do often have to travel to the busier areas. Many of these places are definitely overpopulated and some people attribute the high crime rate to overcrowding.
Some people think it's time to invest more in the infrastructure and improve things here but a lot of people are leaving the country. I want to be optimistic but I don't feel that the infrastructure can support further growth.
While some roads and bridges have been built, many of the minor roads are in a very bad state or don't even exist. There are many power outages and the water facilities are very bad - the pipes to slum areas are made out of rubber and feed into the main taps spreading all sorts of disease.
In many ways the life in Karachi is unstable - rivalries between political parties, bomb attacks, corruption. The security situation drives such a large part of our lives. We are always having to cancel our plans because some attack or incident has made an area of the city unsafe.
But there is order amidst the chaos. There are also many things which distinguish the city from other parts of Pakistan. The quality and variety of food is much greater - even the TV billboards and adverts are exclusive to Karachi, you can't see them elsewhere.
It is not as conservative here as some people think. There is a wide variety of people - from those who have just arrived from rural areas to the people who have been here for many years and socialise with other people in the city.
Pragya Joshi, Delhi, India
I have been living in Delhi for the past six years now. There is not a single part of the city that has remained untouched or where development has not taken place. The whole city has had a make-over in the past six years, all thanks to Commonwealth Games.
Infrastructural development has changed the face of the city. The city has got more then 10 new fly-overs which, in turn, have solved a great deal of traffic and transportation related problems. Metro trains have come across as the biggest blessing to Delhi people, extending to regions such as Gurgaon and Noida.
The only area where I wish to see Delhi grow is in terms of women's safety. People here are broad-minded but there is a lack of security and increasing crimes against women that put a black spot on such a beautiful and lively city.
Like any other city of the world, yes, there is class distinction in Delhi, according to the locations. For instance, South Delhi is the most posh area.
But again, the way the city is developing and expanding there is not a corner of the city which has been ignored in any possible way. Shopping malls are opening all over the city. Just 10-12 years back people recognised brands in India for the first time and, in just a decade, people are not only recognising "labels" but have become choosy and very particular about it. So it shows growth of the city and its changing mind-set.
Karenyna Weiss, Shanghai, China
I have been living in Shanghai for almost two years now, working for a Chinese state-owned company. In my company we receive visitors from around the world every month. Each country or governor is looking to upgrade their country's projects and infrastructure so being here is a connection to the world economy and politics at large.
Shanghai changes very rapidly, I have experienced a real culture change, like the integration of the Fete de la Musique festival from France and other festivals.
The children who are growing up here in expat families all speak Chinese and English and sometimes other languages too. This will create a whole new generation of Chinese-speaking foreign workers in the future.
Shanghai has very good infrastructure. There is a good subway system, brand new airports, fast trains to other cities and clean safe buses.
I am from Sao Paulo, in Brazil which is an even larger city, so Shanghai feels pretty comfortable to me. There is a certain part where everyone hangs out, but it's not too small so that you feel crowded or bored. There are always new things to see, new people to meet and new places to go.
This city is bustling and more exciting then anywhere in Europe or the US. My favourite thing about living here is the energy you feel in the air of a super power growing day by day. Every country wants to do business with us. I enjoy the colours and lights of the city and the constant bustle and the feeling of being in a city that never sleeps.