Norway killings: 'I lost my best friend'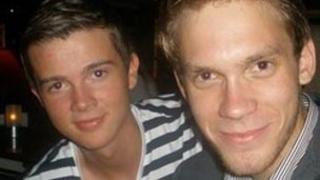 Norwegian Prime Minister Jens Stoltenberg has said his country will "not be intimidated or threatened" by Friday's bomb and gun attacks. He said the violence had been designed to spread panic, but Norwegians would "stand firm in defending our values". Eigil Knutsen survived the shootings on Utoeya island and shared his story with the BBC.
"When the shooting on Utoeya started, the first thought that crossed my mind was that we were being invaded.
It sounds like a strange thing to think - but we had no idea what was happening. I just thought they were attacking the political part of Norway.
I managed to hide with a group of seven other people under an overhang of cliffs.
Fortunately we were obscured from the shooter's sight although he was firing towards a cluster of stones directly above us.
It was close enough that we could smell the discharge of bullets.
One of the people that he targeted was a girl who was directly above us, who was shot twice in the back. She fell the two-metre drop and landed in front of us.
At some stage, Breivik stopped shooting in that area and we were able to pull her in towards us and keep her warm.
She was still conscious and we were just trying to keep her awake as we thought that if she lost consciousness she might die.
She was one of the casualties who was taken to hospital. On Tuesday I heard that she was doing pretty well and had managed to get out of her hospital bed.
I lost my best friend in the attacks. He was Tore Eikeland - the one whom our prime minister referred to as one of Norway's most gifted young politicians.
I had known him for two years. He was a person of great humour and intelligence.
At the moment I'm at home with my family and friends.
We have had a meeting in Bergen with the survivors and the psychologists and we talked about what happened and what's going to happen.
I am feeling calm at the moment, but different people have different ways of dealing with things."