The Libyan effect: Your stories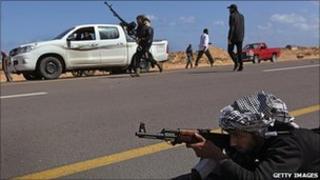 There is fierce fighting across the Libyan capital, Tripoli, as forces loyal to Col Gaddafi try to repel the advance of opposition forces who swept into the city.
As Libya sees increased international pressure for Col Gaddafi to step down and rebel forces clash violently in Tripoli, other nations associated with the Arab Spring movement watch on with varied reactions.
Here, people from Yemen, Bahrain and Syria talk about how people have seen the battles in Tripoli and what they feel it means in their own countries.
Alexander, activist in Damascus, Syria
I'm getting most of my news from Twitter because I follow lots of Libyan activists. We work together and support each other.
In Syria, a minority of the population think that only traitors watch Al Jazeera or Al Arabiya, so if there's a television in a grocery store, it will show only State TV.
But State TV is not telling the full story of Libya: it just focuses on how many people have died there.
Syrians tend to get their news after work, when they go home and watch cable TV.
Syrians thought that if Libyans couldn't topple Gaddafi despite having Nato support, we had no chance to get freedom.
It's obviously a great moment for Libya and it's good news for Syria too. We saw protests in Damascus last night that I think were directly inspired by Libya.
Seeing Libya fall will inspire more Syrians to come out on the street.
People who follow politics in detail can be pessimistic about the situation here. If Assad falls, there might be war in Lebanon.
And although it's not on the table, the US worries that we might want Golan Heights back from Israel if we topple Assad.
Because of these complications, we have much less international support than Libyans.
But even when I have a bad day, I'll suddenly be surprised by the people on the street. It's a war zone out there but, despite all the difficulties, people are risking their lives for a common goal: freedom.
Atiaf, Yemen
Yemenis follow the news of the region very closely. Last night, many pro-democracy protesters at the square were watching news of Libya on a big screen.
People began cheering joyfully for the "almost definite" end of Gaddafi.
Watching the screen many chanted loudly "long live Arab countries", "people want the end of the regime" and "the end is coming soon".
Many people have satellite channels and watch regional and international news agencies.
Local independent and opposition media also highlights the situation in Libya either on television or through the news electronic sites.
I'm not sure since I hardly watch government news, but I did turn it on a couple of times to see what they are reporting and when I did, nothing was reported on Libya.
Instead, images and testimonies from pro-Saleh supporters were being shown on the state television.
Many people realize that Yemen is different not only from Libya, but also from Egypt, Tunisia and Syria. Yemen has a complicated history and many intricate details.
So even if there are similarities, the situation is quite different. After six months of daily protests, people were beginning to become tired.
Last night's news of the Libyan celebrations rejuvenated the fatigued Yemeni pro-democracy movement, giving them hope that change is possible, even if the two situations are not identical.
There has been increased security throughout the country in anticipation of escalation by the-pro democracy movement.
Karamh, Homs, Syria
Al Assad forces killed people today even though there are UN forces here. Al Assad's forces do not consider anyone - they are not worried about the UN presence.
That the UK, France and the US asked al Assad to stand down has no value, he still keeps killing protesters.
The protesters in Libya defend themselves with weapons, our protesters are mostly unarmed.
They are upset by the Arabic silence. We need more support from other countries like Turkey or other Arabic countries.
But they are silent and do not challenge al Assad's position.
So many people have been killed that people think about trying to enlist the help of Nato. At the same time, the events in Libya help to make people more optimistic.
Syed, Bahrain
The events in Libya were sudden. Nobody was expecting it to fall at that time. Yesterday Shia in Bahrain, who make the most of pro-democracy in Bahrain, were busy with religious events.
Today people are comparing Bahrain prime minister with Gaddafi because both of them have ruled for more than 40 years.
If the most powerful dictator Gaddafi can fall, any other dictator can fall.
In Bahrain pro-democracy people are struggling. We feel that the West is supporting the regime. They just don't want to let it go.
The Saudi Arabia army is still in Bahrain. Even though the people are going out every night in their cities.
We just need to keep the momentum to find the best time to take the Pearl Roundabout again. We protest in our cities and the government just tries to keep us there.
The government wants us to be violent - in Bahrain we don't have weapons like they do in Libya so we have to find alternate ways to protect ourselves.