Chile air crash: Your reaction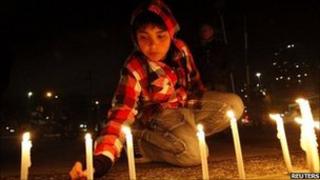 A number of bodies have now been found in the Pacific Ocean after a Chilean air force plane crashed with 21 people aboard.
The plane was lost around the Juan Fernandez Islands after trying to land in poor weather.
On board was a crew from Chile's national TV station, including presenter, Felipe Camiroaga. Here, people from Chile react to the news.
Benjamin Gubbins Vela, in London
My very dear cousin Catalina and her husband Sebastian were on board the plane. I am from Chile but now live in London. I received an email from my mum at a time when it was impossible to know if it was a fatal accident, she said they may or may not be alive. "I die of sorrow and I can't write any more" was her parting sentence.
I went online and read the news. A famous TV presenter dominated the articles as he was one of the passengers. My cousin and her husband were part of the February 2010 earthquake recovery mission around the country. Sebastian is an architect, she is an artist. The TV presenter was coming to do a report on the group's activities to be broadcast on Chile's most popular breakfast show.
Pray God for all the passengers and the crew. Me and my cousin are close, she is beautiful, sweet, sensitive, an accomplished artist, a mother of three. We shared experiences, such as our parents' divorcing. She lost her eldest brother many years ago, it was a blow to the family, the whole extended family, they don't deserve this now but there is never any logic in tragedy.
I logged on to Facebook and the family are all posting their thoughts, feelings and prayers. My mum said my uncle, her brother Pato, Catalina's dad, phoned her a few moments before the news broke on TV.
Neither of them had heard anything about the accident. During the conversation he told my mother that Catalina was away on a trip, back on Sunday. I can imagine this conversation: brother and sister, the weekly catch-up, going through each of their children.
Minutes later came the news broke. Mum tells me she didn't even for a minute think about Catalina. She says she may have missed the bit about the destination of her trip when my uncle told her. She's spoken to Catalina's dad since. Everyone is in a state of alert, hoping for good news but fearing the worst.
Camila Manzano, in Santiago, Chile
It is difficult to express what the Chile's national TV programme Buenos Dias a Todos - Good Morning Everyone meant to us, especially Felipe Camiroaga and Roberto Bruce.
Felipe Camiroaga worked for Greenpeace and other charities. He was a strong supporter for people who could not stand up for themselves.
He also had a great sense of humour and was a very charismatic personality, in an unassuming way.
Felipe Camiroaga was a leader for Chile who will be missed.
Your comments
This has been the worst moment that we've been through since the earthquake. We can't believe people who did so much for our country are lost in the ocean. My regards to the relatives of the 21 passengers. Paz Salazar, Santiago, Chile
My family is from Chile and I lived there for most of my life. I watched Camiroaga all the time and absolutely loved him. It was a big blow to my family when we heard about the accident. We had watched him just that morning on Buenos Dias a Todos. He is a wonderful person and much loved by the whole country. We are all praying for the 21 passengers and their families. Florencia, in New York, US
I want to emphasise that Felipe was one of our best hosts on TV. He was the principal host of a morning TV programme (from 08:00 to 12:00) and has been on our screens since 1992. Even though he was the best professionally talking, he did many things for the community in silence. The reason he travelled to Juan Fernandez Islands was to see the first step of the reconstruction there after the devastation the earthquake and tsunami of February last year left. So their deaths were not in vain and God will hold them up in his arms. Jacqueline Montero, Santiago, Chile
It's a very sad situation that Chile faces once again. They've said it was a violent crash. We don't know yet if they were wearing lifejackets or not. If so, there's a slight possibility they may find somebody alive. The whole country is praying for a miracle. Weather conditions are OK in the island. Let's hope we have some good news soon. Claudia Busta, Concepcion, Chile
Everybody is moved by this tragedy, hoping for a miracle to happen. the common people can't believe that the face that wakes up with them every morning for so many years may be gone. This country needs a break. Vicente Martin, Santiago, Chile
It is very sad news, we are expecting more news. Good people with good intentions were taking part in the trip, to help and also record the reconstruction which had taken place following the the tsunami disaster. We hope to see some positive results from the rescue attempts. Jorge Romero, Rancagua, Chile